News
S-M-L Loft featured in Dezeen
S-M-L Loft featured in Dezeen with a beautiful project description written by Jenna McKnight.
Read more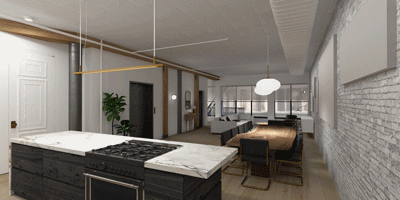 Crosby Loft III Construction Progress
Vision becoming reality at Crosby Loft III. Scheduled completion this spring!
Read more
S-M-L LOFT WINS SARA DESIGN AWARD OF EXCELLENCE!
BC—OA is thrilled to learn that the S-M-L Loft has been honored with an Architectural Interiors Award of Excellence in the SARA NY 2020 Design Awards program. Looking forward to celebrating this win together at the TWA terminal in late 2021.
Read more
Crosby Loft II Featured on Archello
Read more
12th Street Lobby Design Construction Ready
Our design for a residential lobby renovation at 44 East 12th Street is ready for construction. Excited to see the distorted 44 wood baton feature wall come to life!
Read more
Crosby Loft V3 Starts Construction
BC—OA's first commission was the gut renovation of a Soho Loft on Crosby Street in 2010. Now 10 years later, we are beginning construction on the third loft in this building. See Crosby Loft 1 and Crosby Loft II for the first two projects, as well as Crosby Lobby for the lobby renovation in the same building. Crosby Loft III coming your way soon!
Read more
S-M-L Loft 2020 Finalist in Interior Design's 2020 NYC x Design Awards
S-M-L Loft is a finalist in Interior Design Magazine's NYC x Design Awards 2020.
Read more
Bronwyn Judges AIA Orlando 2020 Design Awards
Bronwyn was honored to participate as a juror together with David Lewis and Annabelle Selldorf for the 2020 AIA Orlando Design Awards. Winners to be announced Soon
Read more
NECD - NEW FACTORY AND OFFICES COMPLETED
BC—OA is proud to witness the completion and move of one of NYC's leading manufacturers of elevator interiors into their new factory and offices at the Brooklyn Navy Yard designed by BC—OA. National Elevator Cab and Door Corp has been in the elevator interiors business in NYC for more than 50 years. Thank you NECD for working with us on this project!
Read more
S-M-L Loft receives Architect Magazine Design Award
Another award for S-M-L Loft! The 2500sf loft renovation has been awarded an Architectural Interiors citation in Architect Magazine's 2019 Residential Architectural awards program.
Read more
FRANKLIN STREET LOFT - NEARS COMPLETION
Andrew has found a new home along with his quickly growing family in their nearly complete Tribeca loft apartment. This 3500 sq-ft gut renovation was designed to respond to the industrial character of the neighborhood combined with a minimalist interior for these return clients.
Read more
S-M-L Loft receives AIA Design Award
BC—OA was pleased to have our design for the S-M-L Loft honored with a Design Award in the Interiors category at the AIA NYS Design Awards.
Read more
BC—OA'S WORK ON CORNING'S WEBSITE
Read more
S-M-L Loft selected for Architizer A+ Award finalist!
Our S-M-L Loft has been selected as a finalist in the Apartment category for the Architizer A+ Awards! Winners will be announced in July - please vote for us for the popular vote winner!
Read more
Andrew in Dwell
Andrew, our most demanding client, makes his debut on Dwell.com!
Read more
BC—OA IS LIVE
Today, we bid farewell to 590BC and launch our new name and identity: Breitner Ciaccia—Office of Architecture. This has been a massive team effort with designers Lost and Found, Virgo and Joshua Rule bringing initial design ideas to life, as well as many dedicated hours by our whole internal team. Moving on!
Read more
VISIT US AT OHNY
Through its annual OHNY Weekend, Open House New York celebrates the best examples of design and planning throughout the five boroughs, from historic to contemporary, and helps foster a more informed conversation about how architecture and urban design sustain New York as a vibrant place to live, work, and learn. This year for the first time OHNY invites you inside the studios and offices of some of the city's leading architects and designers. Visit the spaces where architects work, see new projects and meet the individuals who are designing the future of New York. BC—OA is honored to be included! Stop by Saturday 10/13 from 12-4pm More info HERE
Read more
WELCOME ELIZABETH!
We're so pleased to be joined by Elizabeth Austin, a former Pratt student of Bronwyn's. Elizabeth is a recent grad, ready to get her hands dirty with some real live architecture.
Read more
Italian intern Stefano joins BC—OA
Stefano Grisoglio has joined the BC—OA team. Stefano comes directly from Ivrea, Italy and recently graduated from the Polytechnic University of Turin. His Thesis titled SPACE explores the use of immersive Virtual Reality as a tool to study how humans move through spaces and how it feels to be inside something that is not built. We're hoping to bring this tool and thinking to our next projects. Stay tuned!
Read more
We've Moved!
New office location at 84 Withers Street, overlooking all things Williamsburg from our 5th floor perch atop the BQE. It's bright and sunny and big and we love it.
Read more